Welcome to the online home of Peter's Clam Bar a Long Island Landmark offering the finest clam bar in Island Park, Long Island, New York. Seating is available outside in the front, inside overlooking the water ways or on the deck. Be seated inside or outside at this year-round restaurant that features seafood such as clams, oysters, and chowders, as well as hotdogs, hamburgers, French fries, etc. As if that weren't enough, there are salads, steaks, and beverages that range from soft drinks to beer, to an extensive list of fine wines.
Open All Year Around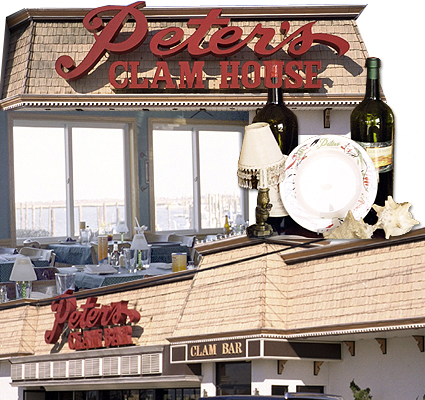 The Clam Bar portion of the restaurant offers two places to order from "The Seafood Window" offering a wide variety of Fried Seafood, Manhattan Clam Chowder, Sumptuous Caesars Salads, Peter's Special Seafood Salad. The Second place to order from is "The Bar" serving the freshest Cherry Stones, Little Necks, Top Necks, Oysters on the half shell, Hot Dogs, Hamburgers, Chicken Fingers, French Fries, Grilled Cheese Sandwich, and Baked Clams as well as Soft Drinks and Beer. Lastly, Peters fine Restaurant's dining room serves a American Comfort Cuisine. Credit cards accepted. The salads are mouth watering and the appetizers are unbelievable. Fresh fish entrees, pastas presentations with a special twists, and Porterhouse and Shell Steaks will make anyone happy. Peters will absolutely stun you with their international collection of wines. Peters now open all year round! For The First Time Ever!
Peter's Clam Bar
600 Long Beach Road
Island Park, NY 11558
Phone: 516-432-0505
Fax: 516-431-8825
Website: http://www.petersclambar.com
E-mail: RAMCORP2K@AOL.COM
Click here for Driving Directions!

seafood, clam, clams, lobster, lobsters, Island Park, Long Island, LI, New York, NY, oyster, oysters, shell, shellfish, fish, bar, restaurant, private parties, full, separate, Long Beach, Seaford, 11581, outdoor, indoor, water view, casual, fine, dinning, all in on place, full menu, fried, Cherry stones, Manhattan Clam Chowder, Boston, hot dog, French fries, appetizers, noveau cousine, sea, water, deck, dinner on Long Island.
© Peter's Clam Bar
All Rights Reserved. Reproduction Prohibited.
Designed by topwebdesigner@networks-by-design.com
Hosted by http://www.ultratek.com